SHOW ALL CONTENT
---
---
Bug fixes and performance improvement
This version does not contain any new visible features.
Web Portal | New Filter for a Multi-Users Field
A Multi-Users field type can specify a filter based on:
By default no filter is applied.
More information soon.
Bug fixes and performance improvement
This version does not contain any new visible features.
Incident / SR | See the Information Related to the Restriction of Templates
You can now see more easily the restrictions by group and by site for incident templates and SR types.
A ist called Incident/SR templates restricted by group or site, as well as columns in the advanced search, have been added.
More information coming soon.
DataImporter | Import Holidays
It is now possible to import public holidays with DataImporter, instead of adding them manually. This option will be especially appreciated by administrators who take care of the holidays for several teams.
For more information, see the DataImporter - Import Holidays article.
Boards | Now with Change History
The history of basic modifications in boards is now available.
More information soon.
CI | Can Now Have Certains Default Values
You will now be able to configure certain default values depending on the CI type.
The fields that can be configured are:
More information soon.
Text Editor | Corrector Activated
A spell checker is now available by default when editing in HTML mode.
The corrector will underline in red the word or words detected in error, a right-click on the word shows the suggested corrections.
Bug fixes and performance improvement
This version does not contain any new visible features.
Bug fixes and performance improvement
This version does not contain any new visible features.
Bug fixes and performance improvement
This version does not contain any new visible features.
Web Portal | Add Attachments from the Clipboard.
It is now possible to add an attached file on the Web Portal in the field of a request or an activity using data contained in the clipboard. No need to save the file first anymore!
The system will give a name to the file and give it the extension according to its content (png, txt, rtf, for example).
You can paste the information from the clipboard with the CRTL + V key combination. However, the contextual menu (right-click) does not work.
For more information, see the Attachment operations section of the Web Portal Operation article.
Today the Octopus version 6 is born and some of you will ask yourself the question: what about version 5?

The objective of the Web version of Octopus is to have a tool that is efficient, user-friendly and meets customers' business needs as easily as possible. Version 5 did not meet these objectives satisfactorily, so we readjusted ourselves to a different type of development.

Used for Octopus COVID-19 among other solutions, the ESM platform is much better suited to current needs and will be used for Octopus's future development. More information to come during fall.
Interface | Works with the new .NET 4.7.2 Version
The version 6.0 of Octopus requires the Microsoft .NET 4.7.2 component to use the application on workstations and servers.
Updating the requirements is part of the normal evolution of our application. Indeed, the used .NET Framework version dates from 2010.
The new version therefore offers many advantages both in terms of what it allows us to accomplish as a software publisher and in terms of its performance and security.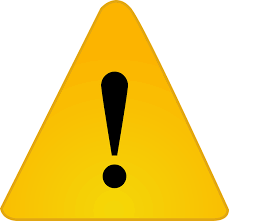 From version 6.0, a workstation or a server with a .NET version earlier than 4.7.2 will have an error message and the application will not open.
In addition, programs like
ADSIReader
,
MailIntegration
, etc. will no longer work.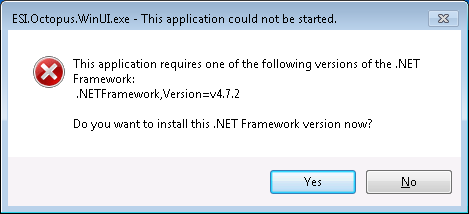 See the Octopus system requirements article for more information.
Themes | New Concept to Choose the Octopus Look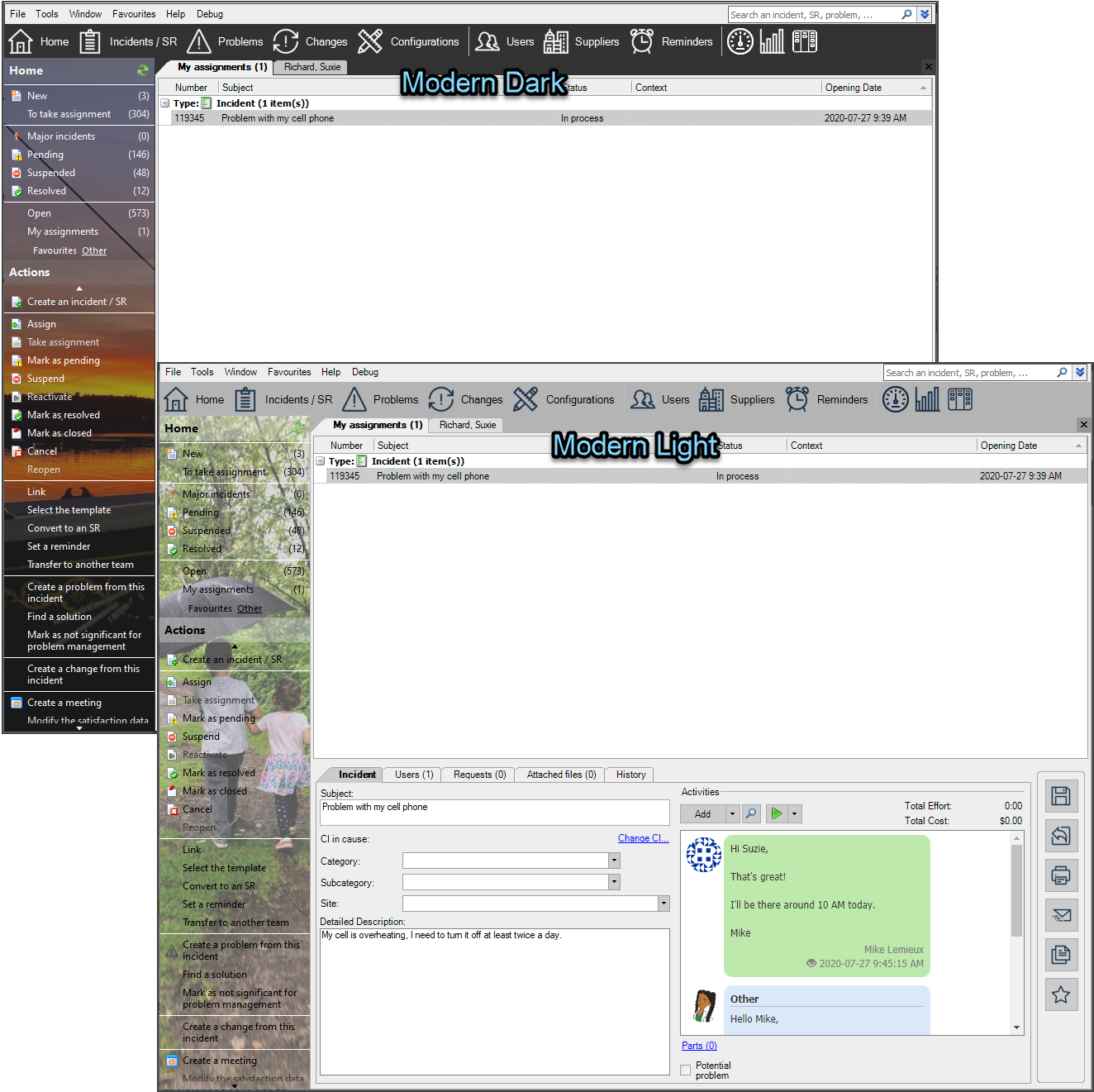 It is now possible to change the look of Octopus using various themes:
Classic
Modern blue
Modern dark
Modern light
In addition, you can add an image of your choice to the left section.
To find out more see the How to Use the Themes to Change the Look of Octopus? article.
Editing | New HTML Editor
With version 6, an HTML editor called Froala is now being used.
This editor runs in the background to edit text in the following places:
Activities - if the option is activated
Activity types - if the option is activated
Email templates
Field configuration, incident templates and SR types

Internal procedure
Instructions to the user
Comment type fields

Instructions in a form

CIs Document tab

For the CI types that have the Is a document option checked

Internal announcement
Web Portal announcement
To learn more about what the editor can do in Octopus, see the HTML Tool in Octopus article.
Activities | Can Now be Formated
With the introduction of a new editor, it is now possible to format activities in Octopus requests.
The Octopus administrator of a team can activate this option from the Tools > Options > Important General Options > Text format for activities added by technicians menu.
To discover the possible functionalities in the activities, go to the HTML Tool in Octopus page.
Boards | Kanban Method Tool Now Available
Work organization by flow, which is the basis of the Kanban method, inspired us to create the Octopus boards.
You can organize work to be done according to the steps to be accomplished instead of looking at a list.
Boards make it possible to "visualize" work to be done, whether it be from the personal board of an Octopus user, or from a board shared with several people.
We have been using boards for a while at Octopus to organize our development and we wanted to share this tool with our customers.
We already have several ideas for improvements in mind, but we want to see what will be the day-to-day use of your teams to be able to target the improvements that will be most useful to everyone.
We therefore invite you to explore the Octopus Board Management.
Reference Data | New Concept in Advanced Search
One of the main places where the Octopus configuration takes place is in Tools > Reference data management. This is where we create and configure CI types, requests, sites, departments, etc.
Because it can sometimes be difficult to find a particular item in the reference data, a field has been added at the top of the window to make it easier to find information.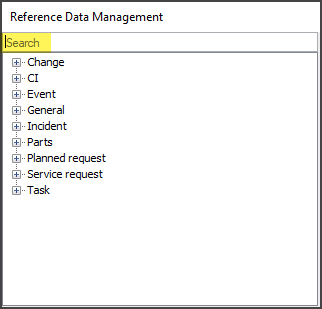 Also, depending on their permission, Octopus users can now use the advanced search to find out the values, to keep an eye on the data that gets added and modified or also to create lists.
The Searching the Reference Data page gives you details about this new option.
---
X
Thank you, your message has been sent.
Help us improve our articles