SHOW ALL CONTENT
Version 6.0 - Microsoft .NET 4.7.2 (or later) Mandatory for Octopus Windows Client (WinUI) and server
Description of the Change
Starting with version 6.0, scheduled during the 2020 Summer, customers using Octopus Windows client or server will first have to deploy the Microsoft .NET 4.7.2 (or later) component before the update.
This installation can be done now and will not interfere with the operation of the current version of Octopus. Installation of a latest version of .Net Framework (e.g.. version 4.8) is also acceptable.
These modifications apply to the client application, no matter if you use a hosted or local environment as well as your Octopus server if you are using a local environment. However, be mindful of the automation server used by your automated tasks (MailIntegration, ADSI, WMI...) as this one is using an Octopus Windows client and will need to be upgraded.
The update of the prerequisites is part of the normal evolution of our application. Indeed, the current version of the .NET Framework is from 2010. The new version offers a lot of advantages both in terms of what it allows us to accomplish as a software publisher, as well as performance and security.
So, the time has come to ask you to update.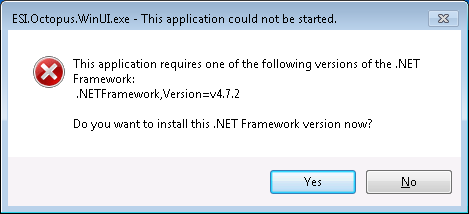 Installing the Microsoft .NET 4.7.2 Component
End of Support for Windows XP, Windows Vista, Windows Server 2003 and Windows Server 2008
Since the minimum version required to deploy Octopus is now Windows 7 SP1 or Windows Server 2008 R2 SP1, customers who use Octopus Windows on a prior Windows version will have to migrate to a more recent operating system version.
For clients with a local Octopus environment on a prior Windows Server version, it has reached end of life and cannot be supported further. You will be unable to install Octopus version 6.0 since requirements cannot be met. To obtain the newer version, we invite you to consider one of the two following options:
Move your installation to the hosted solution where our fully redundant servers are waiting for you.
Open a project to upgrade your Octopus local server with our Service Desk (some fees apply).
Supported Operating Systems
Windows 7 SP1 and Windows Server 2008 R2 SP1 (any edition)
Windows 8 and Windows Server 2012 (any edition)
Windows 8.1 and Windows Server 2012 R2 (any edition)
Windows 10 and Windows Server 2016 (any edition)
Windows Server 2019 (any edition)
Supported SQL Server
Microsoft SQL Server 2014 and +
X
Thank you, your message has been sent.
Help us improve our articles