SHOW ALL CONTENT
Table of contents
Introduction
During the trial period, Octopus will continue to evolve with our team of developers.
This page will tell you about new features during the trial period.
Discover in Octopus 5
Go to the discovery of elements that ONLY exist in Octopus 5!
Look at these small GIF files or short videos to see the new options.
Version 4.2.370
Attachments | Paste the Content of the Clipboard
You can use the CRTL+V keys to paste the content of your clipboard as an attachment to a record. A text or PNG file will be automatically created.
Please note that this option is not available with Internet Explorer or Edge.

Watch little video
Version 4.2.360
Lists | Sorting on columns now possible
It is now possible to change the sorting order of lists in Octopus 5.
Keyboard shortcuts | New shortcuts for Octopus 5
Octopus 5 has new shortcuts, here is the list of shortcuts available at the moment:
CTRL+S: Save

ESC: Cancel changes in progress

ALT+R: Refresh the data (without reloading the entire application asF5 does)

ALT+1 to ALT+9: Quick access to favourites

F4: Create an incident
Go to the Octopus Shortcut Keys page to see the complete list.
Sections | Simplified edition
We can now edit a section with a single click. You can also leave a section that is in edit mode to go to another section without having to cancel (unless changes have occurred).
Version 4.2.350 - Start of the trial
Forms| Supports the custom forms
Incident / SR creation is done using the forms from the SR and incident types.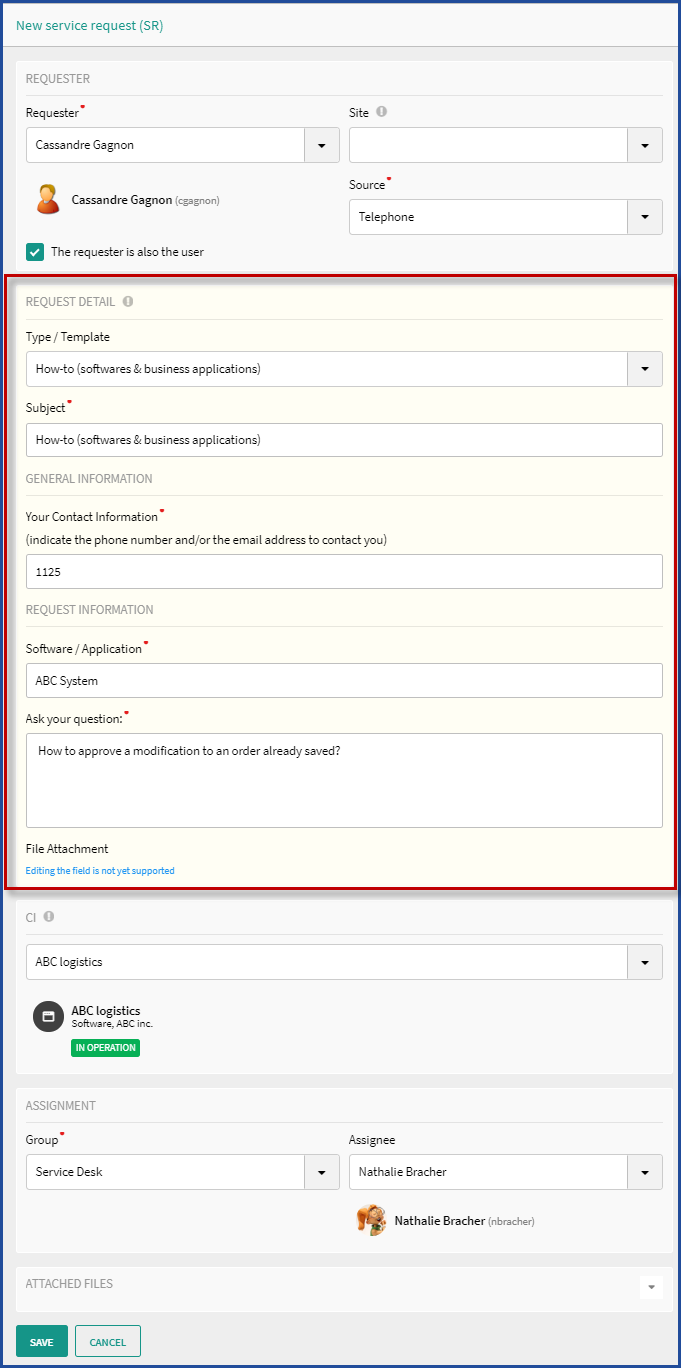 Lists | Grouping in lists
The configuration and grouping of your lists are reflected in Octopus 5.
Note: The modification to sorting or grouping of lists must still be done through the Windows application for the moment.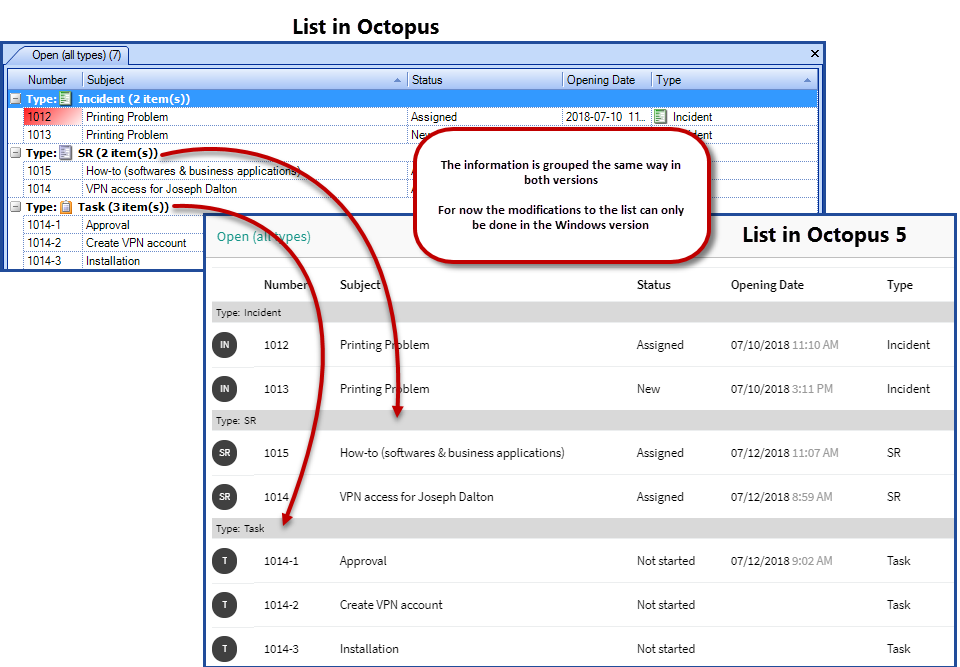 Watch little video
Search | Quick search for incidents, SR, CI and users
Quick Search now works to search for Incident, SR, CI, and User data.
This feature will be improved in future releases to search for other data. But already one of the advantages is that the search is done on several modules at once.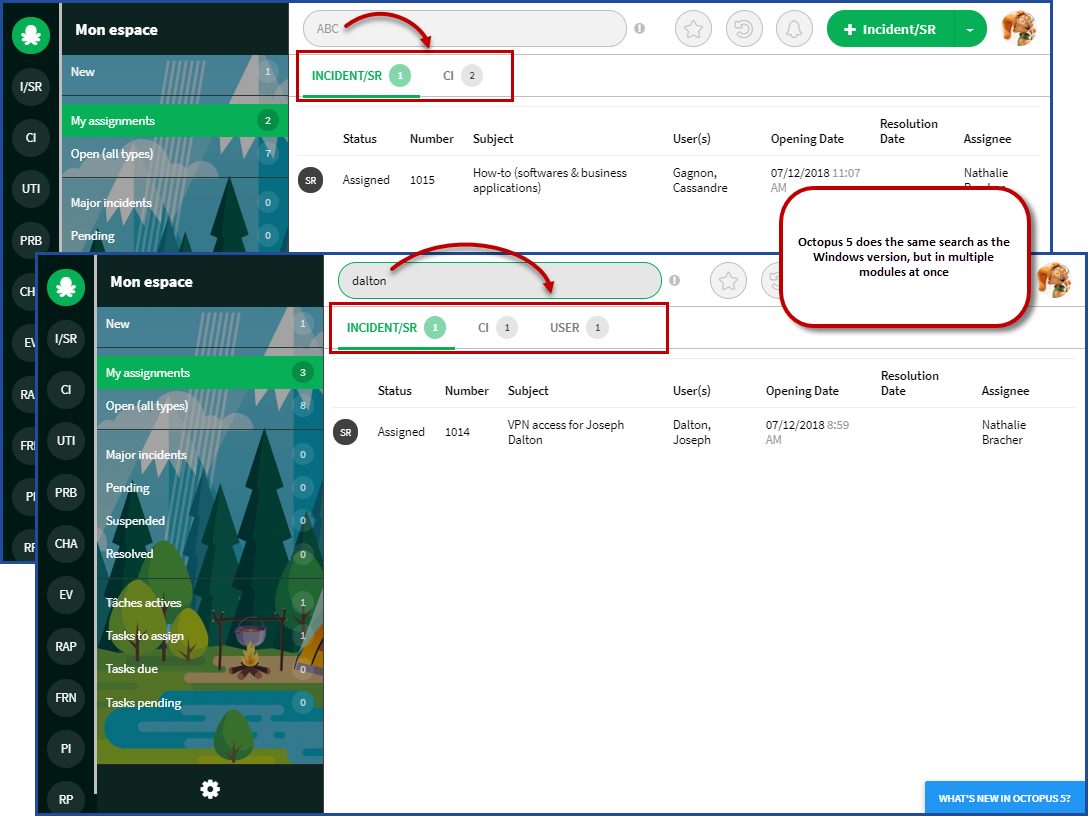 Watch little video
Navigation History | New Concept
Octopus 5 now offers the ability to see your navigation history. The last 50 items that have been accessed are visible when you select the button.
In the advanced search of the Windows version of Octopus you can also see the last 300 elements that have been opened by various Octopus users in Octopus 5.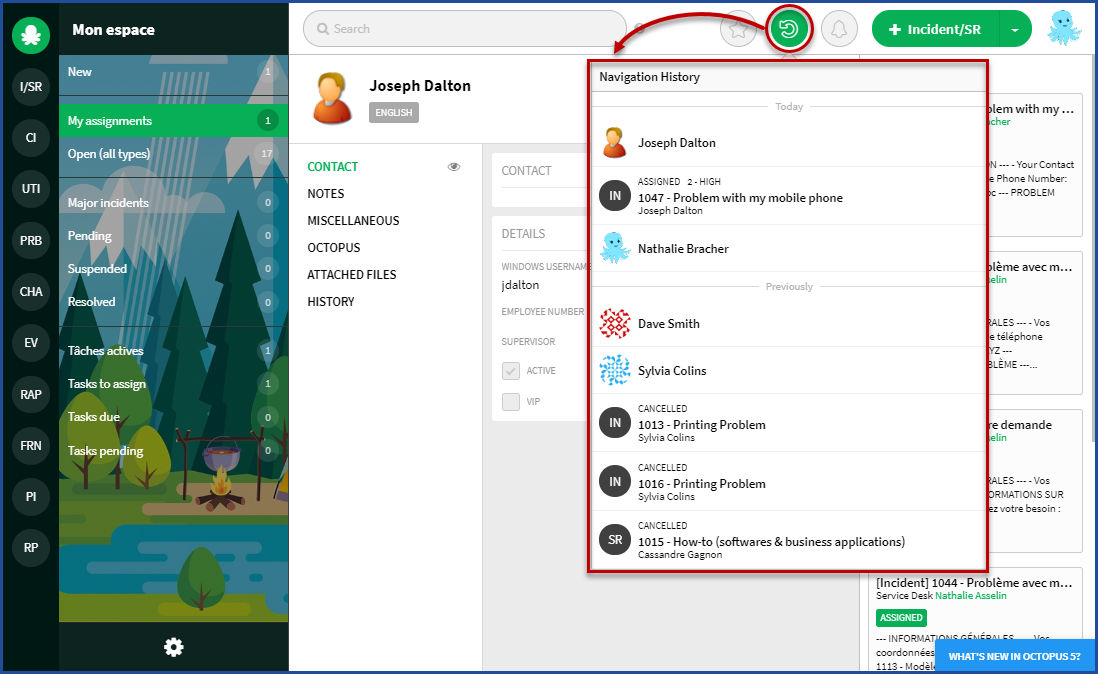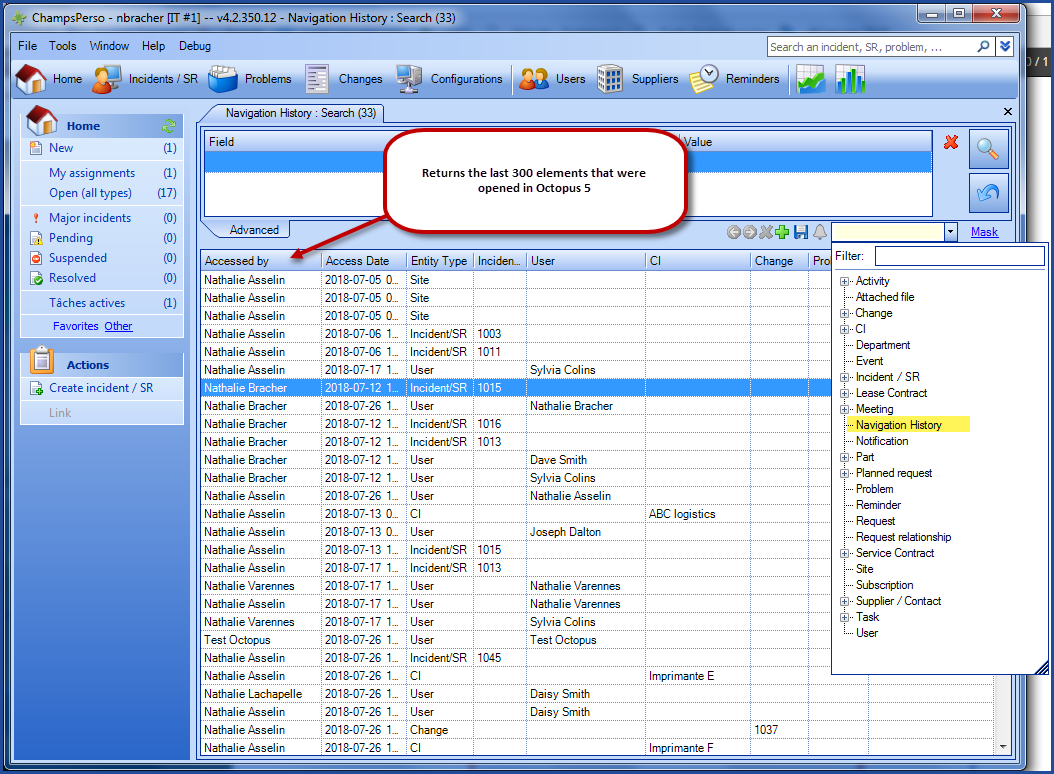 Request the Octopus 5 Trial Version
Note that the translation for the Octopus 5 version is not completely done right now. So there may be some sections or buttons that are still in French.
If you want to be among the first users to whom we will give access to this trial period, we invite you to complete the request New Octopus 5 (Web) and Mobile version for Octopus users on our Web Portal.
X
Thank you, your message has been sent.
Help us improve our articles