SHOW ALL CONTENT
Table of contents
Related Articles
Introduction
In a company, it often happens that people from different departments have to work together to deliver a Service Request. Octopus enables End Users to receive Tasks and participate in the execution of a request. They are called "External Assignees". The delivery of the Service Request is more efficient with this consolidation of tasks and it improves customer service, because you can track the progress of all tasks directly in the Web Portal.

The Approval Tasks continue to be found in the Web Portal in the "Approvals" Module, while the Regular or "Standard" Tasks are processed in the "Tasks" Module.

To create an External Assignee Account for a User, see the User Management article.

Click the Automated Approval - Reference Document link to learn more about Approval Tasks.
What you need to know :
An external assignee requires an
External Assignee
license.
For more information on the types of the licenses see the
Octopus license
section of the User management articles.
Notifications to External Assignees
When a Task is assigned to an External Assignee, a notification will be sent by email, advising him that a new task has been assigned to his groupe or to him.




Figure 1 - Task notification sent to a Workgroup (internal or external)




Figure 2 - Task notification sent to an Assignee (internal or external)
Access to Tasks via the Web Portal
A user identified as an External Assignee will have access to active tasks in the Web Portal Tasks Module.



| List of Available Tasks | Brief Description |
| --- | --- |
| My Tasks | List of active tasks taken in charge by the External Assignee |
| New | List of active tasks assigned to the Workgroup or to the External Assignee |
| Opened | List of all active but incompleted tasks assigned to the Workgroup or to the External Assignee |
| Completed | List of tasks completed by the External Assignee |
Management, Modification and Completion of a Task
When a task is assigned to an External Assignee, Taking Charge and Completing the Task can be done from the task list or from the task itself:
In the Task List, click on to take the Task In Charge and on to Complete it
In the Task itself, is used to take the Task in Charge and to Complete it.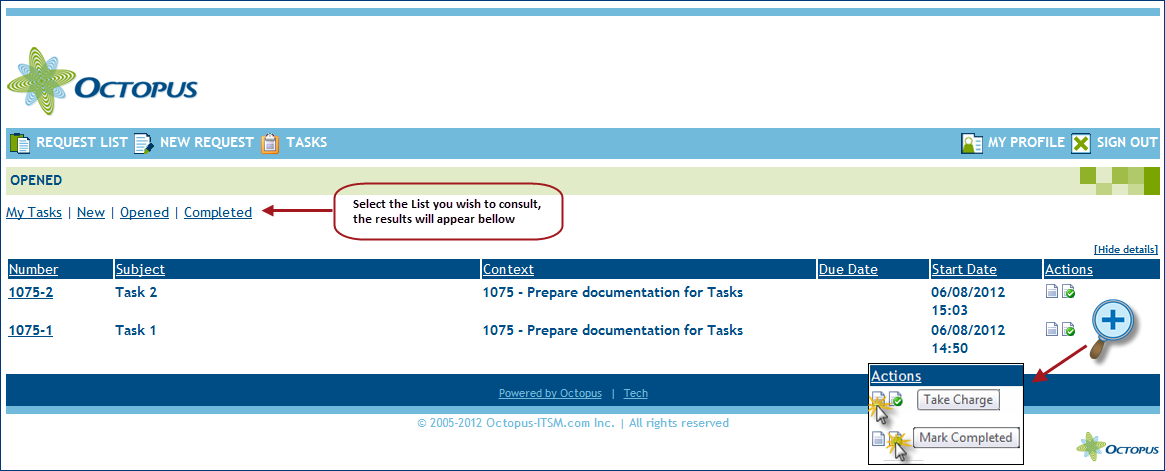 Figure 3 - Web Portal Task Module
The figure below shows the fields to be filled to document and complete a Task. You can also see the "Activity" Form.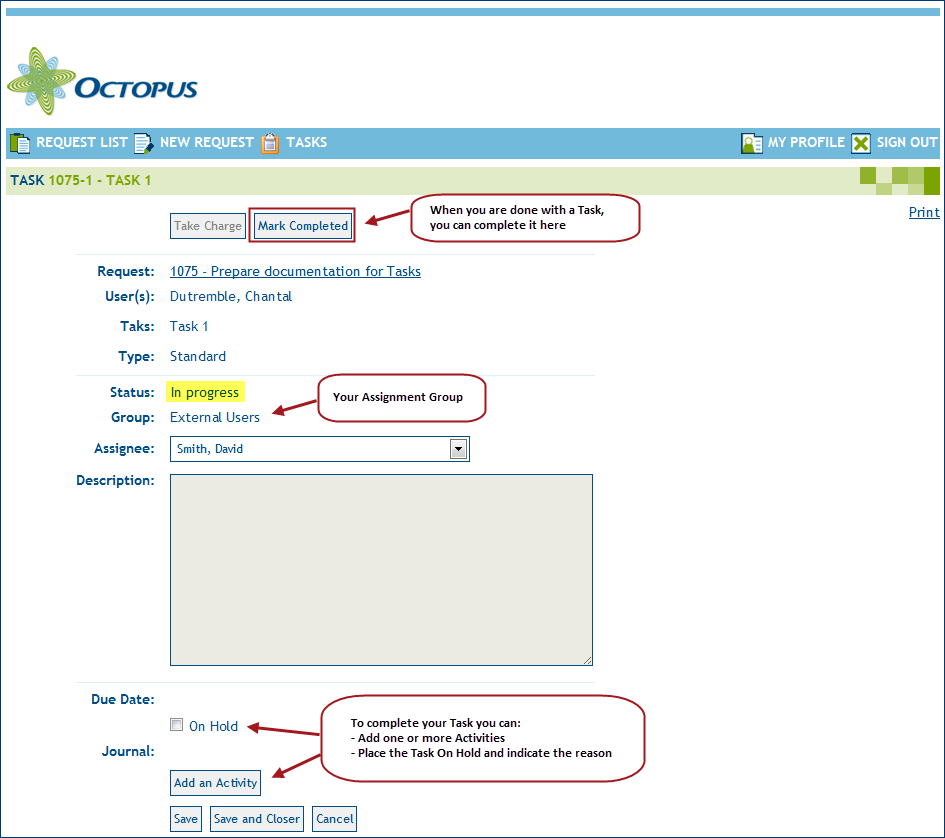 Figure 4 - Form of a Task assigned to an Assignee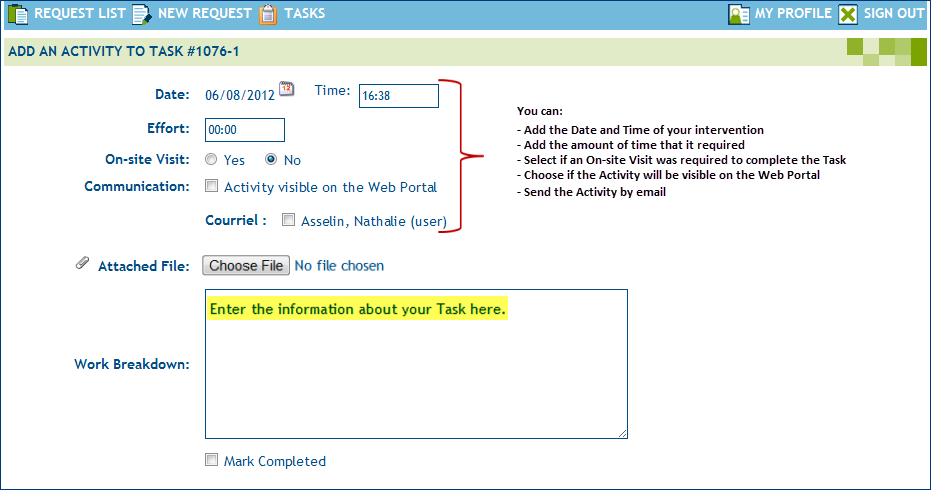 Figure 5 - Activity Form
Additional Information for the Octopus Administrator
The External Assignees are part of the "Octopus User" list. To distinguish between the different types of accounts, you can use the fields:

​

The effort is visible, but not required for the External Assignees' tasks
The activity type field is not visible for External Assignees
External Assignees systematically get email notifications (this feature cannot be disabled)
X
Thank you, your message has been sent.
Help us improve our articles