SHOW ALL CONTENT Dear customers,
As the year comes to an end, we'd like to thank you for your trust and show our appreciation for the valuable partnership we've built over the years.
This is a great opportunity to reaffirm how committed to providing the best quality of service we are, while maintaining a strong relationship with your teams to efficiently support your ongoing projects.
As we are gradually expanding our catalog with innovative solutions to fulfill your transformational needs, you can rest assured that this quality of service in managing your recent projects with our new healthcare solution suite, and new no-code/low-code platform, is a top priority.
Because our team is continuously thriving to go beyond your expectations, next year will particularly highlight a dynamic that boosts innovation and collectively improve our performance.
In the meantime, the entire Octopus team wishes you and your loved ones our best wishes, and a happy holiday season.
Happy New Year!
| | |
| --- | --- |
| | Cloud Solutions |
MailIntegration | Microsoft Office365 - Basic Authentication
The changes managed by Microsoft regarding the removal of support for the Basic authentication mode may have disrupted your operations.
We are dedicated to improving the MailIntegration application for all your daily management needs. We understand that it is a vital tool to your operation and are always available to support you if needed.
We are planning some changes that will simplify the configuration process of the tool. Stay tuned!
Authentication | Azure AD
You've talked to us and we've heard you. We are committed to delivering Azure AD authentication support in Q1 2023.
Note that you can already use authentication with Azure AD on your Web Portal: Configuring Azure Active Directory
Find all the information about our integrated authentication solutions: Identity Federation
| | |
| --- | --- |
| | Continuous improvement |
Field Configuration | Support of Numeric, Decimal and Currency types
You can enhance the content of your forms with these four new types, which will allow you to benefit from the use of specific operators in the advanced search.
In addition, you have the freedom to configure the number of decimal values supported for each field as well as a number of currency symbols.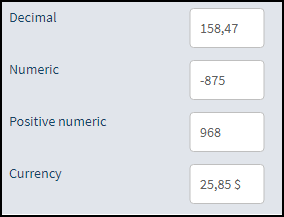 Tasks | Quick actions to modify your tasks right from the request form
Improving our solutions does not only mean adding new features. We are aware that the improvement of some existing features can save you time and reduce the number of operations to accomplish the same task.
With this in mind, a series of frequently used actions have been added to the list of a task in the request form.

Email Template | Approval Notification Variables
Many of you use approval tasks in your workflows and we understand that decision making for an approver is based on the information they have access to.
In addition to the details of the approval task itself, comments from other approvers can support the decision making process. These variables can be used in your email templates for the approval process:
Task.ApproverComments

It allows you to include approver comments visible on the web portal that are part of the initial approval phase in the context of an Approval Request notification.

Task.AllApprover Comments

It allows you to include all approver comments visible on the web portal in the context of an Approval Request notification.
| | |
| --- | --- |
| | Tips & Tricks |
Notifications | Problem reporting
Octopus provides you with different mechanisms to report a problem. We are generally able to quickly detect the presence of a problem, whether it is in the processing of messages by MailIntegration or in the generation of your planned requests for instance.
To notify you of these problems, Octopus relies on the generation of notifications, which will contain as much information as possible on the nature of the problem and the ways to solve it.
This information may only be shared with you if you subscribe to these events via the Notification Preferences.
Error notification

Cyclic relationship detection (circular reference) between your CIs
Active planned request item detection with no next planned date

New event
(*) Notice to Octopus administrators: Event notifications are sent to group members by default, generally the Service Desk. Make sure you are a member.

Problem detection with the DataImporter tool
Problem detection with the MailIntegration tool
Problem detection when generating planned requests
---
To learn details of all the new features since the last newsletter and more, please visit the Release Notes page.
X
Thank you, your message has been sent.