SHOW ALL CONTENT
Table of contents
Related Articles
Introduction
Incident Management is an ITIL® process that is part of the Service Operation Phase: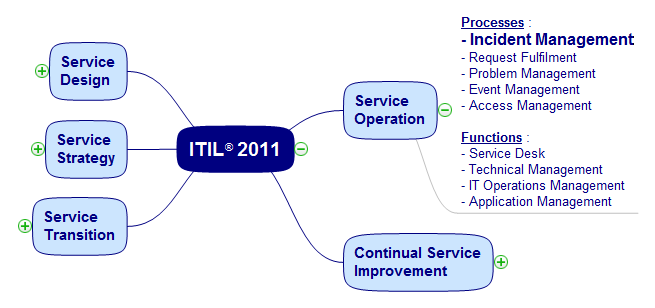 Definitions
Please consult "Incident Management" section on the ITIL® Glossary.
Objectives
Incident Management process objectives are:
Ensure that standardized methods and procedures are used for efficient and prompt response, analysis, documentation, ongoing management and reporting of incidents
Increase visibility and communication of incidents to business and IT support staff
Enhance business perception of IT through use of a professional approach in quickly resolving and communicating incidents when they occur
Align incident management activities and priorities with those of the business
Maintain user satisfaction with the quality of IT services
Scope
Incident management includes any event which disrupts, or which could disrupt, a service. This includes events which are communicated directly by users, either through the Service Desk, a web interface or any other way.
Although both incidents and service requests are reported to the Service Desk, this does not mean that they are the same. Service requests are not a service disruption as incidents are. See Request Fulfilment ITIL® Process for more information on how are managed service requests.
Value
Reduce unplanned labour and costs for both the business and IT support staff caused by incidents
Detect and resolve incidents which results in lower downtime to the business, which in turn means higher availability of the service
Align IT activity with business priorities; Incident management includes the capability to identify business priorities and allocate resources as necessary
Identify potential improvement to services; this happens as a result of understanding what constitutes an incident and also from being in contact with the activities of business operational staff
Service Desk can, during its handling of incidents, identify additional service or training requirements found in IT or the business
Incident management is highly visible to the business,, and it is therefore easier to demonstrate its value than most areas in service operation. For this reaason, Incident management is often one of the first processes to be implemented.
Basic Concepts
Timescales
Timescales must be agrred for all incident handling according to their priority; this includes response and resolution targets. All support groups should be made fully aware of these timescales. The tool should be used to automate timescales and escalate the incident as required based on predefined rules.
Incident Models
An incident model is a template that can be reused for recurrent incidents. It can be practical to predefine 'standard' incident models and apply them when incidents occurs; they contribute to a faster entry and a more efficient treatment.
Major Incidents
A separate procedure, with shorter timescales and greater urgency, must be used for 'major' incidents. A definition of what constitutes a major incident must be agreed and ideally mapped onto the overall incident prioritization scheme. When necessary, a special team can be put in place by the Incident Manager to ensure that adequate resources and focus are provided to finding a swift solution.
Incident Status Tracking
During incidents lifecycle, differents status occurs; here are some examples :
New - an incident is submitted but is not assigned to a group or resource for resolution
Assigned - an incident is assigned to a group or resource for resolution
In process - the incident is in the process of being investigated for resolution
Resolved - a resolution has been put in place
Closed - the user has agreed that the incident has been resolved and that normal state operations have been restored
Process and Activities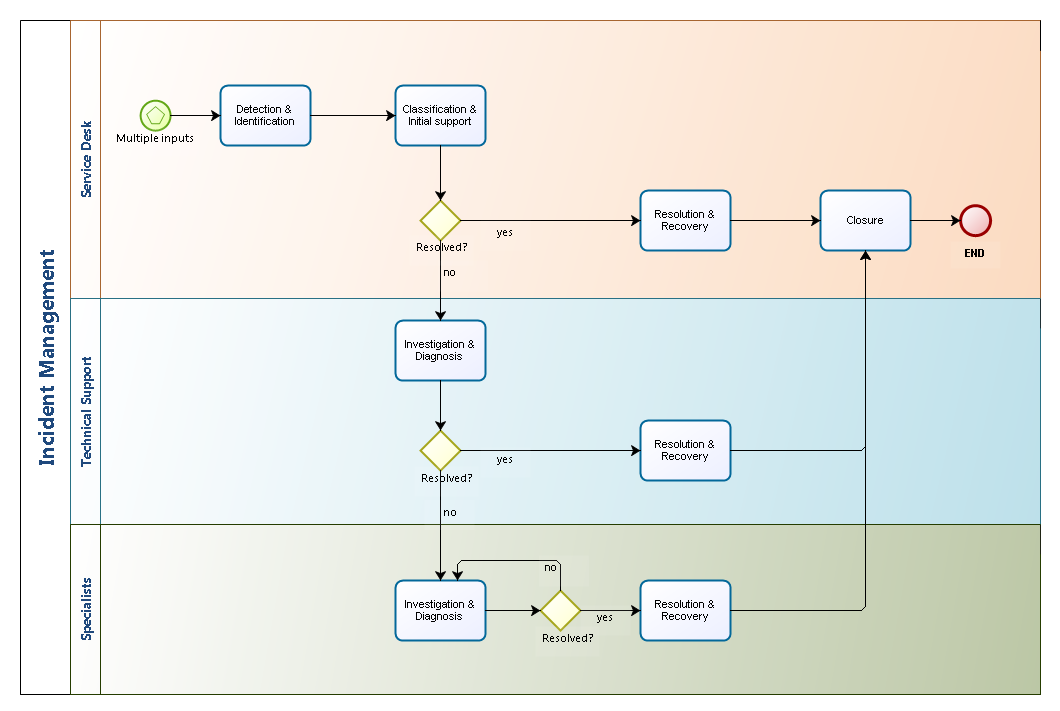 X
Thank you, your message has been sent.
Help us improve our articles