SHOW ALL CONTENT
To automatically assign a site to users and computers contained within a specific OU, follow these steps:
Go to Tools > Reference Data Management...
Open the General node
Open the Sites section

Add a new site or select an existing one

Click the button on the right of the "Active Directory groups" (a window showing your AD structure will open)

Choose the corresponding OU

Click OK

Save your changes

At the next import, users and computers contained in this OU will be assigned to the defined site.

The following example shows that the users contained in the OU=ST-LAURENT,DC=ESITECHNOLOGIES,DC=com OU will be associated to the ESI St-Laurent City site.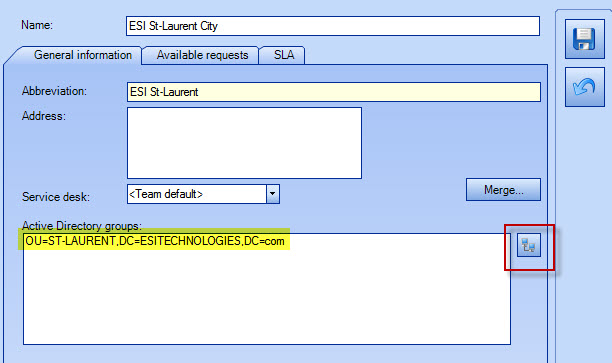 Related Articles
X
Thank you, your message has been sent.
Help us improve our articles